World, meet Wally. This brave young pig was destined for the slaughterhouse back in March of 2017. But Wally is a fighter, and he now lives happily at the SoulSpace Farm Sanctuary in Wisconsin.
Although we know pigs are highly intelligent and emotionally complex animals, we were still surprised when we learned of Wally, the pig who saved his own life by jumping off a truck headed for the slaughterhouse. It's amazing that an animal would be so clever as to do that!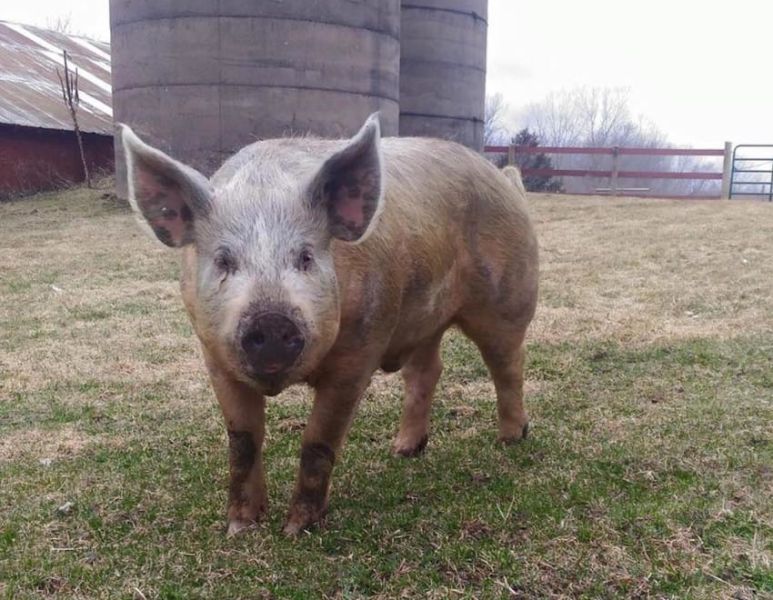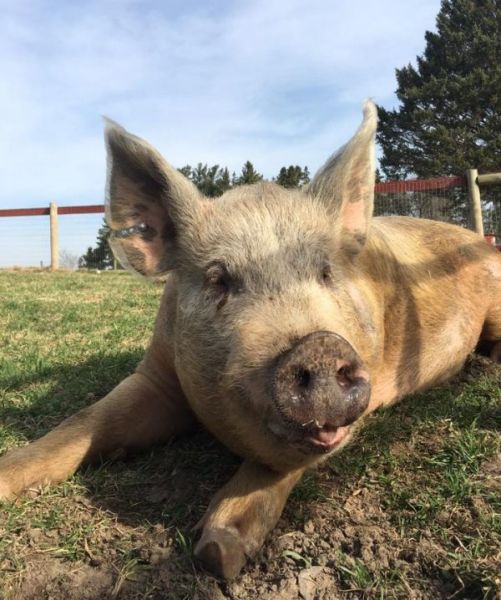 Just three miles away from the slaughterhouse, traveling at seventy-miles-per-hour down the highway, a driver behind the slaughterhouse truck reported that Wally was trying his hardest to unlatch the back gate of the semi. Luckily for him, he succeeded! Taking the ultimate leap of faith, this wonderful pig jumped off the truck to save his life. After a few tumbles, he shook himself off and walked toward safety on the highway median. He was taken in by the Humane Society a few hours later.
Wally's determination to live proves to the world that pigs are someone, not something. Thanks to the kind people of SoulSpace Farm Sanctuary in New Richmond, Wisconsin, Wally has a new lease on life – safe on open farmland with a pot belly pig buddy and dozens of other farm animals. SoulSpace Farm Sanctuary is always in need of donations and volunteers. Please visit their website to learn more about ways you can become involved in their compassionate mission.
This is how Wally's powerful story begins: 250 lb, 9 month old Wally was on a truck headed for slaughter. Just 3 miles from the Sioux Falls slaughter house, Wally decided to save his own life. The whole escape was captured on dash cam by a driver traveling on the I-90. The driver was a few car lengths behind the big tractor trailer when it became clear that the gate of the truck was coming loose on one side.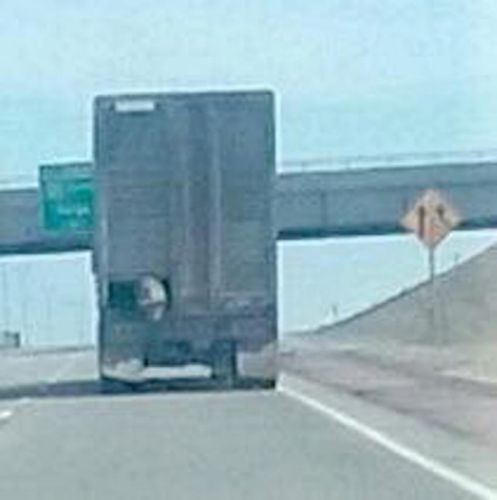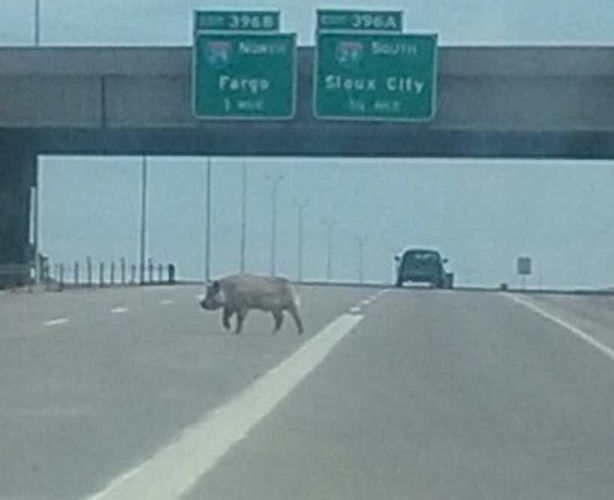 According to the witness that was driving behind the truck at 70 mph on I-90, Wally fought like hell to get the gate up at the rear of the truck. On his fourth or fifth attempt, he succeeded and squeezed his body out from under the gate. Wally looked over the edge, and Wally JUMPED. The driver didn't even notice his missing passenger. Instead, the truck simply drove off into the distance, leaving Wally a free man.
Wally hit the pavement and went head over butt three times. Then he stood up, shook his head out, and headed for the median. It's fortunate that there weren't many cars on the high-speed road. Lynde Miller, who witnessed the escape while driving behind the truck, called 911 and animal control officers secured the pig before it could get hit by a car. Wally was rescued by the Sioux Falls Humane Society a few hours later.
After all of that exhaustion and trauma, Wally deserved an awesome space to call home, and he finally got it. He fetched up at the SoulSpace Farm Sanctuary in Wisconsin, where he lives harmoniously with lots of other livestock buddies. Today, Wally lives a happy pastoral existence. He spends his days hanging out with visitors to the sanctuary, and is known for his affectionate and mischievous personality! This cute pig is living the best possible life.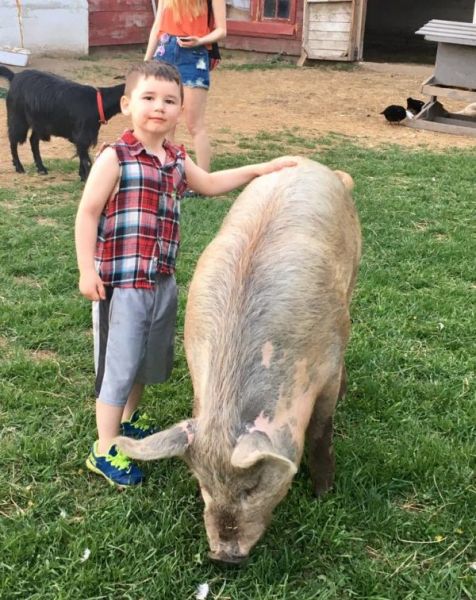 Wally got his name from Andy Oestreich, the senior humane officer at the Sioux Falls Area Humane Society, where he was first taken. In those first days, he was a little standoffish when it came to interacting with people. After all, factory pigs don't have a lot of human interaction, and the interactions they do have aren't positive. These days he's trusting and comes when his name is called. He is very sociable and loves people now.
When he first arrived, Wally's best friend was Amos, a mini-donkey. But more recently, he's taken up with three new pigs that came to SoulSpace. Two of them are factory pigs like Wally.
Sources:
onegreenplanet.org
littlethings.com
argusleader.com
Photos: Facebook / SoulSpace Farm Sanctuary / Lynde Miller
You can read more about Wally also on USA Today or Star Tribune. Check also this amazing video by Samuel Sprynczynatyk about Wally.